If we compare the cost of goods in China to other developing countries we can see that China is already less competitive for some products. For example we can buy paper boxes and liners for a cheaper price in India due to the low value of the Rupee, this and the low cost of labour in the country has continued to keep India competitive for many hand made items. Unfortunately until India is able to build the sort of infrastructure and business ethics which China has, then India will not be able to fully emulate the Chinese economic superstar.  However, Indonesia has a young and educated workforce with low wages and is also trying to steal some of the economic glory. Vietnam likewise is a good alternative for hand manufactured items which are very competitive due to its lower wage costs.
Over the last year China factories have faced numerous challenges which have seriously affected their ability to compete against packaging suppliers from other countries.
A combination of challenges have made life interesting:
First of all environmental restrictions placed on factories by the government. Due to China's commitment to the Paris Agreement in order to tackle climate change, very strict new laws have been implemented to ensure that pollution as a by product of manufacture is greatly reduced.  
– Glass bottle factories have been forced to change to gas fired furnaces instead of coal, this has meant huge infrastructure costs in factories to rapidly build new furnaces.  The frosting of glass bottles is now more than double the cost of a few years ago-  many glass factories have stopped doing this process themselves, as the effluent from the excess acid must now be disposed of carefully.
– Anodizing factories for metal products are also facing similar problems, no more chance to keep cost down by dumping the waste in illegal sites.
– Paper is also much higher in price due to more strict deforestation policies and also stricter rules on processing.
The Renminbi had been steadily creeping up in value this year until the central bank intervened making China goods a little more expensive than earlier, even without any other influences. This has meant that many suppliers in China have been quoting in RMB (instead of USD which is the norm) to avoid taking a loss in profit on currency differences.
Wages in the developed Eastern area of china close to the main shipping routes have increased a lot over the past few years. In the past there was no problem recruiting new staff after the New Year holidays each year. But increasingly factories either have to increase salaries a lot to attract staff from other parts of China or have to introduce more automation in the factories to reduce labour. According to a Forbes report of June 2017 China average salaries in Shanghai and Shenzhen are already as high as salaries in Croatia, Romania and Bulgaria.
The oil prices have greatly increased over the past year worldwide. This has affected the cost of plastic for all of us, wherever we buy from. China has been experiencing difficulties in sourcing some plastics such as surlyn which are in short supply.
Recently prices have shot up by 50% with some suppliers who are struggling to get stocks of materials.
The local market in China has really taken off a lot with many young Chinese consumers enjoying local cosmetics products. This has put a lot of pressure on many factories who also make glass bottles and plastic/aluminium caps for perfumes. The volumes of local china cosmetics brands are huge and the suppliers command a higher price for local sales than for exports, so they prefer to sell to local factories.
If the cost is increasing so much in China, then why are people still buying there?
1. First of all reliability factor. Most China suppliers keep their promises and the local business and government infrastructure supports them, allowing them to be more reliable.
2. Speed of response. China suppliers work very hard and have an 'open all hours' approach to business. If you deal with a supplier in Western markets then working hours are not so flexible, you cannot get quick replies for quotes, especially not out of normal work hours.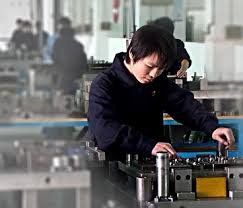 3. Great ability in tooling and development. Whilst China is not the greatest nation for creativity, it certainly is very good at implementing others' ideas at low cost. A new mould for injection moulding or metal casting can be developed relatively quickly and at much lower cost in China than in Europe. If we compare the cost of a mould fee for injection mould in Europe at around 20,000 Euros per mould, the cost for similar can be between $1500 to maximum $8,000 for the most expensive Rolls Royce mould in China. So great savings can be made in product development.
4. Trust. 'Better the devil you know'. It takes a lot of time to build up trust with new suppliers. Switching to new suppliers is not easy, there are often fitment and quality problems or delays. Often it is better to solve your differences with the existing supplier than to change supplier.
5. If you already have moulds developed with a particular supplier it is a huge investment to move them over to new suppliers.
6. Often factories who buy a lot from China will ship many goods from various suppliers in one container. Its expensive to ship half empty containers from Vietnam to Europe. You should have enough suppliers or enough volume with that new supplier to ensure that shipping costs do not add more cost than staying with your old supplier.
In short, China is still a major player and will continue to be a major player for some time.
But the tide is turning, it may not keep its dominance as the low cost supplier and have to reinvent itself to make itself relevant in the future economy. Maybe more innovation and less copying is the key?