What has caused the rise of the unisex perfume?
Calvin Klein brought the concept of unisex perfumes to the notice of Western markets in the 1990s with the launch of CKOne which was an overnight success. But this was certainly not the first company to develop unisex perfumes.
Traditional Middle Eastern oriental perfumes have always been inherently unisex, as Arab men do not have a problem wearing rose or gourmand sweet notes and likewise ladies enjoy woody or spicy notes in their perfume compositions. Niche perfume houses also do not often specify if their fragrances are male or female . Even some African markets such as Nigeria have traditionally been unisex, driven by the purchases of the head of the household, women wear whatever he chooses to buy.
According to Mintel, gender neutral fragrances accounted for only 17 percent of new perfume launches in 2010, but made up 51% of new launches by 2018. The global market is showing a clear growth trend in Unisex perfumes, though not all markets are as ready to adopt this product type. Markets such as Brazil, for example are still not adopting unisex perfumes.
In the UK the mass market as well as the luxury and designer perfume segments are enjoying healthy growth in unisex perfumes (see below graph from Statista). The mass market should continue to enjoy healthy growth over the next ten years, since most of it is fuelled from the drive for individuality of younger consumers who have not yet reached their peak earning capacity.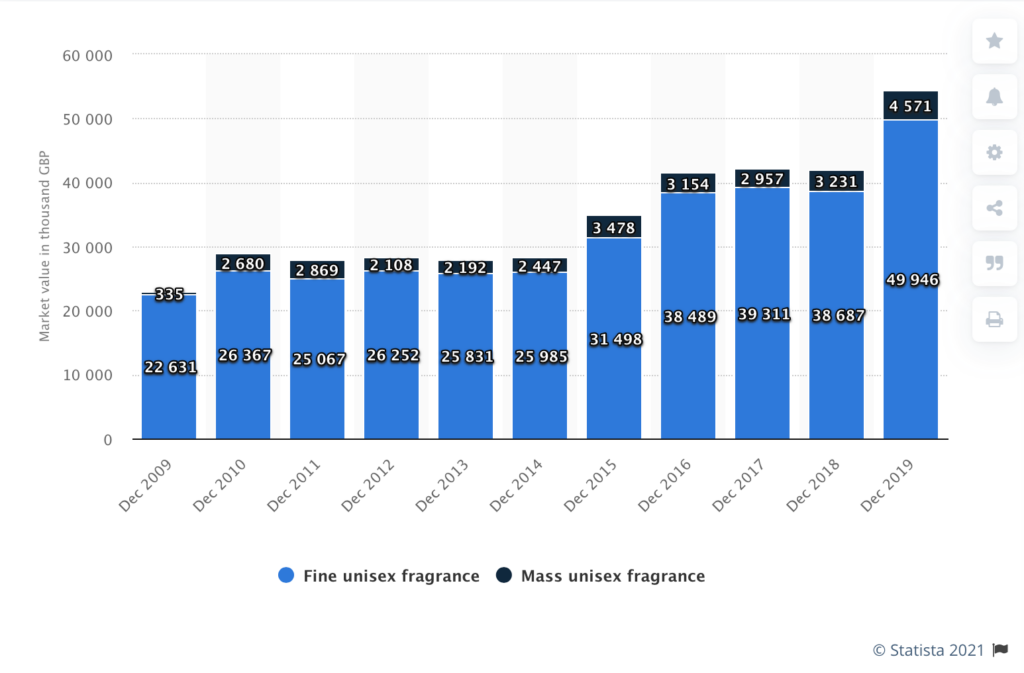 What factors are contributing to the rise of the unisex perfume? 
Previous social norms have been broken down in many societies and consequently preconceptions about what is innately feminine or masculine have been brought into question by younger generations. Traditional perfumery marketing imagery showing strong muscular men and feminine sexy women is often seen as passé and sexist.

The demand for unisex perfumes is also fuelled by the increased need for individuality of Millennials and Generation Z. Unisex perfumes allow a person to explore the adventure of the skin's reaction to new and unexpected fragrance notes which would not normally be available in a typical men's or women's fragrance.
The recent designer launch CK Everyone has a wide variety of fragrance accords such as citrus and wood as well as sweet and powdery which give the fragrance a much wider appeal, there seems to be something for everyone in the fragrance as the brand name implies.
Buying a unisex perfume is generally about focusing on the ingredients which you like, not about what a mass distribution company thinks we should like based on your gender. Ingredients which have traditionally been seen as male or female are now being used to change the personality of a perfume. We are witnessing fruits and floral and gourmand ingredients such as iris, lavender, rose, amber, neroli, vanilla and sandalwood, being used in unisex perfumes. The increased interest of younger consumers in niche perfumery has also led to the creation of many more lighter fragrance compositions. Millennials and generation Z consumers are also highly focused on the environment and sustainability, so this is leading to trends of fragrances with more natural botanic elements.
Another trend in unisex perfume is the concept of 'layering' which has been prevalent in the Middle East for centuries, but is relatively new in Western markets. A selection of fragrances are combined to give a more individual composition. For example, combining a fruity floral fragrance with a woody musky perfume. Increasingly perfume houses are catering to this need by developing collections of perfumes which can be combined in different ways to create different perfume moods. For those who are interested to experiment and learn more about their own likes and dislikes, why not buy a perfume set from the experimental perfume club.
Many of the current trends hark back to the old days of perfumery when perfumery still had an air of mystique about it. Nowadays younger consumers research online for perfume recommendations from friends and are more likely to be influenced by a brand's credentials of being environmentally friendly or offering unique and unusual solutions than if it has spent millions on film star photo shoots. This points to the fact that the perfume market is likely to become more fragmented and there will be more opportunities for small businesses if they take the time to understand the needs of consumers, as big budget advertising spend is no longer de rigueur.